We blend reason,
emotion, and metrics
in engaging ways
that work.
Graphic Design • Print Services
We believe that exceptional graphic design and printing services work doesn't just happen. The best creative talent working together and committed to compelling results make it happen. We study and listen. We research and learn. And we leverage everything into your company brand and stories that entice, engage, and motivate people into seeing YOU in fresh, new ways. We also are direct mail experts using the EDDM USPS discounted mailer service! Reach every household in an area using our direct marketing solutions!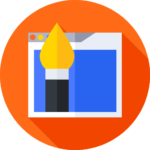 Graphic Design
Making a good first impression is vital. Developing a professional image and eye-catching materials is an essential part of an effective marketing strategy. From logos to print work to packaging, we deliver inspired, effective designs for your brand.
Printing Services
We'll make sure that your print items - from brochures and sales sheets to business cards to menus, postcards, and catalogs - communicate your message and convince your customers to return. We have solutions for all of your print needs.
Our team can create amazing visuals that look great in digital and print formats. From digital signage to brochures, catalogs, and flyers to restaurant menus, posters, and banners. We bring your message to vibrant, creative life – life that breathes results!
LOGOS • BROCHURES • SIGNAGE • MENUS • SELL SHEETS • FLYERS • CATALOGS • POSTCARDS • INFOGRAPHICS • DIGITAL DOCUMENTS • AND MORE!
we handle everything digital and print-related
Looking to reach every
home owner
business
address
person
in an area? Consider EDDM!
Let's grow your business with immediate results! Direct Mail Advertising is ideal for just about any type of business, organization, or event that needs immediate response directed at local customers to generate sales.
Local pizza shops, auto repair shops, restaurants, florists, daycare centers, hair salons, spas, real estate professionals, and home service companies. And these are all examples of companies using our EDDM graphic design and printing services. Thus, they bring walk-in traffic to their businesses to increase client base and awareness of their business.
The perfect way to get every household in your target area to see your offer, menu, brochure, and more.
REASON • EMOTION • METRICS
We understand the core elements of proper design
What you do has to have a reason.
It has to make sense for your business, your brand, and particularly your audience. Our strategic approach and creative team build reason and purpose into your print and graphic designs to assure that you are always reaching audiences in a meaningful way and never just hollow words and visuals.
What you do has to invoke emotion.
Rooted in the process of creative design, our methodology is immersed with the emotions of your message. Be it empathy, curiosity, hunger, joy, desire, or any other emotional connection. We are meticulous in process and craft, believing emotional connection is the catalyst that drives impact and engagement.
What you do has to have meaningful metrics.
Yes, the magic we do must move the needle. It has to get you results. Making a measurable and meaningfule impression means more than just boosting your profits. It means creating graphic and print items that impact your audience in positive and memorable ways.
Design and Print Solutions for any budget
Stop watching your prospects drift away.
Stop spending your time trying to figure it all out only to have things keep changing.
We tailor our services to your budget and marketing goals.